---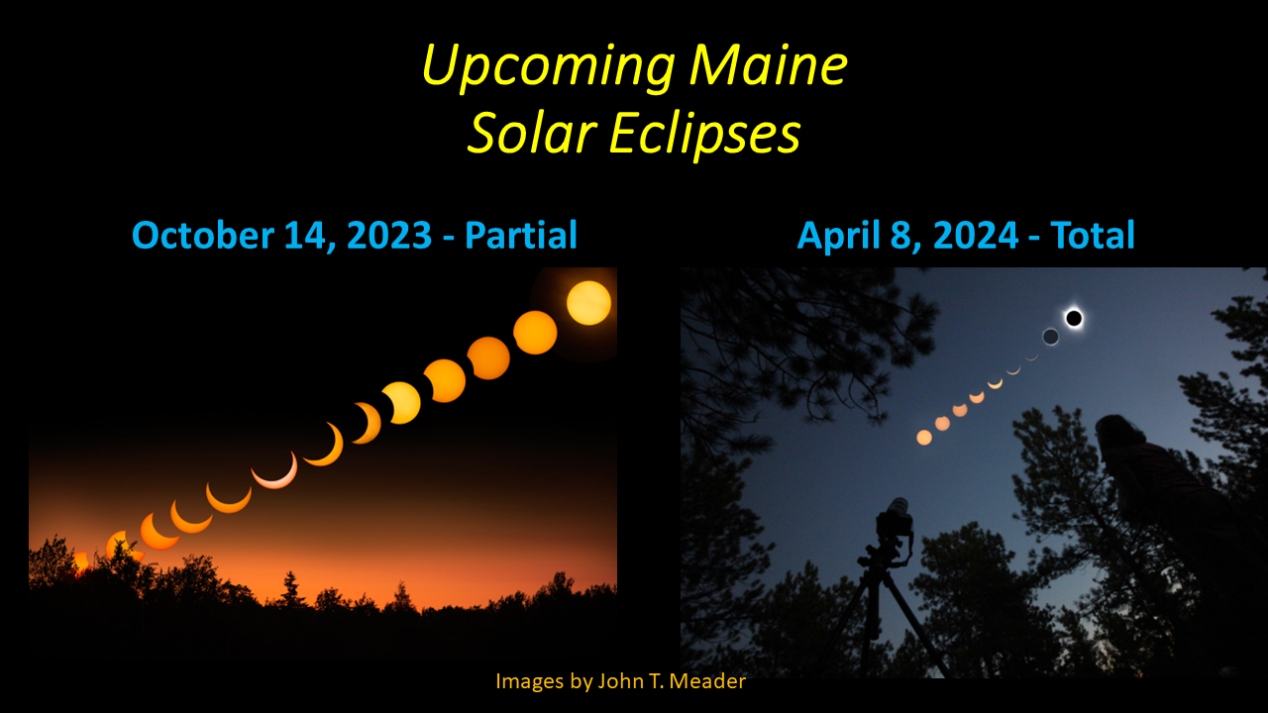 Upcoming Maine Solar Eclipses
On Saturday, October 14th of 2023 an Annular Solar Eclipse will cross the United States.  In Maine we will only see partial phases with between 20-25% of the disk of the Sun obscured by the Moon.  In Bangor, the eclipse will start at 12:26pm EDT and end at 2:27pm EDT.  Maximum will be at 1:27 pm EDT.   For more information on this annular eclipse see https://eclipse.aas.org/eclipse-america-2023
Join us for our Friends and Family programs on Saturday, October 14th to learn about eclipses in our show. Then see the partial eclipse for yourself that day from our Clark Telescope starting at 11:30 am, with maximum eclipse occurring at 12:18 pm EDT.
On Monday, April 8th of 2024 Maine will experience a Total Solar Eclipse!  The last time this occurred was on July 20th of 1963, so try not to miss this one!  Note to see totality you must be on the centerline – so if you live in Bangor, Orono, Portland, Augusta, etc. you will have to travel to experience the full eclipse.  Those towns will experience a partial eclipse only, which is much different than totality!  See https://eclipse.aas.org/eclipse-america-2024 and https://eclipse2024.org/eclipse_cities/states.php?type=total&state=Maine&country=USA for detailed information.
Curious about how often eclipses occur? Check out this article from astronomy.com!
You can also check out NASA's pages for the 2023 and 2024 eclipses! 
Safe viewing of solar eclipse is extremely important!  Never look at the Sun directly without proper protection, as doing so can cause eye damage.  The planetarium has solar eclipse glasses available in our gift shop for $2 each which provide a safe way to observe the Sun during eclipses.  Get yours today!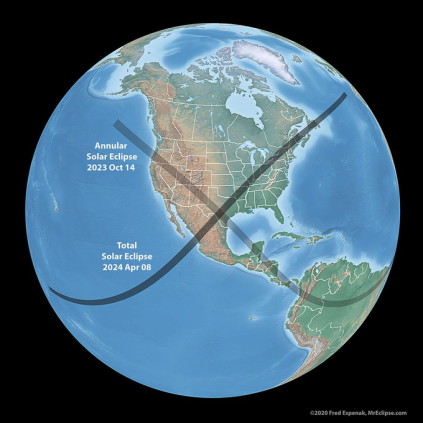 ---