Unlocking the Secrets of Proteins: The Rise of Cryo Electron Microscopy
Thursday, October 6 at 7:00 pm
Proteins are an essential component of all living things, allowing us to grow, breathe, eat, and even sense our surroundings. However, understanding how proteins are shaped and how they work can be one of the most elusive questions in molecular biology. Join us as we explore the mystery of protein structures, and use the latest state-of-the-art technology: Cryo Electron Microscopy to unlock their secrets. Using dramatic full dome visuals and real-time models we will look at protein structures discovered by Cryo EM in new ways. The importance of knowing protein structures for both curing disease and creating new technologies will be discussed.
Dr. Caitlin Howell is a professor of Bioengineering in the Department of Chemical and Biological Engineering and the Graduate School of Biomedical Science and Engineering at the University of Maine. She completed her Ph.D. in Physical Chemistry as an NSF Graduate Research Fellow at the University of Heidelberg in Germany under the direction of Prof. Michael Grunze, and her postdoc in Materials Science as a Technology Development Fellow with Joanna Aizenberg at the Wyss Institute for Biologically Inspired Engineering. At the University of Maine, Dr. Howell and her group work to understand and ultimately control biological systems through the engineering and design of material interfaces.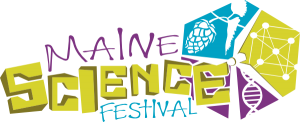 The Science Lecture Series at Emera Astronomy Center will take place the first Thursdays of each month and is a partnership project with the Maine Science Festival and will feature research from a variety of science disciplines from around our state and use the digital planetarium to visualize these discoveries in a new dramatic and immersive way.
Tickets for planetarium programs are $6 for Adults, $5 for UMaine Students/Veterans/Senior Citizens, and $4 for children under 12. Click here to view our calendar.
Tickets may be purchased online, by phone at 207.581.1341, or at our ticket box office prior to the show.