Art and Science: Visualizing Complex Ideas for Everyone
Thursday, November 3rd at 7:00 pm
Where do science visualizations come from?  What is the process of taking a complex idea and making an image that aids in our understanding?  Chuck Carter who designs video games (such as the game MYST) and VR experiences is an accomplished science illustrator. His artwork for National Geographic, NASA and Scientific American has helped make science accessible for everyone. He will talk about his process when making images and visualizations, showing how he breaks down complex ideas into easy to understand illustrations.  His talk will feature a variety of immersive examples of his work discussing how digital tools changed the way he works and what explore how immersive visualization will play an important role in our future as we move into Virtual and Augmented Reality.
Chuck Carter has been doing art and animation on a computer for 30 years. He's been involved in video games since 1991 and worked on the highly successful game Myst. Since then he has worked on 25 additional games in a variety of capacities, as well as working as a special effects artist on the shows Babylon 5 and Mortal Kombat Crusades. He is an accomplished science illustrator and animator, regularly illustrating for NASA, National Geographic, Scientific American, and McGraw-Hill Publishing, among others. He is the owner of Eagre Games, based in Orono, and they are about to release their first game ZED in May of 2017. ZED is a non-violent, first-person, real-time game based around the idea of exploring the dreams of a dying artist.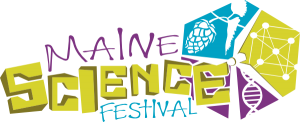 The Science Lecture Series at Emera Astronomy Center will take place the first Thursdays of each month and is a partnership project with the Maine Science Festival and will feature research from a variety of science disciplines from around our state and use the digital planetarium to visualize these discoveries in a new dramatic and immersive way.
Tickets for planetarium programs are $6 for Adults, $5 for UMaine Students/Veterans/Senior Citizens, and $4 for children under 12. Click here to view our calendar.
Tickets may be purchased online, by phone at 207.581.1341, or at our ticket box office prior to the show.