From Lightsabers to Tricorders:
Harnessing Light for Biomedical Applications
Thursday, May 4th at 7:00 pm
Light surrounds us, but how often do we appreciate the power of light for use as a diagnostic tool? Join us as we explore the possibilities of using small alterations of light as captured by microscopes to aid our human eyes in detection of small alterations. We will discuss 2-photon microscopy techniques, an approach that enables high resolution, 3D data collection. Using the planetarium's full dome technology, we will explore and fly through 3-D images of human lung and ovarian tissues to investigate alterations in tissue organization of human disease.
Dr. Karissa Tilbury is an assistant professor of Bioengineering in the Department of Chemical and Biological Engineering. She completed her Ph.D. in Biomedical Engineering as a Medical Physics Trainee at the University of Wisconsin under the direction of Dr. Paul Campagnola and a postdoc in Biophotonics at Vanderbilt University under the guidance of Dr. Melissa Skala. At the University of Maine, Dr. Tilbury is continuing her work in 2-photon microscopy techniques to understand the interplay between the extracellular matrix and cellular metabolism. Additionally, she is actively involved in STEM education at the P-16 levels.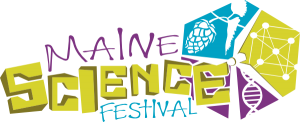 The Science Lecture Series at Emera Astronomy Center will take place the first Thursdays of each month and is a partnership project with the Maine Science Festival and will feature research from a variety of science disciplines from around our state and use the digital planetarium to visualize these discoveries in a new dramatic and immersive way.
Tickets for planetarium programs are $6 for Adults, $5 for UMaine Students/Veterans/Senior Citizens, and $4 for children under 12. Click here to view our calendar.
Tickets may be purchased online, by phone at 207.581.1341, or at our ticket box office prior to the show.