Science Lecture Series
September 2021 Speaker
Dr. Neil Comins
What If the Moon Didn't Exist
Thursday, October 14 at 7:00 pm
The Moon is a vibrant part of our lives and has been celebrated for centuries in art, literature and of course science.  We find it easily at night and if we look hard enough, also during the day.  Most people have learned that it contributes to our tides and that it has been the goal of spaceflights since the late 1950s.  What would the Earth be like today if the Moon had never existed?  Certainly, the tides would be different (yes, they would still be here) and we wouldn't have the Moon's light to help illuminate the night.  But those are only the tip of the metaphorical iceberg.  Indeed, the changes to Earth and life without a Moon are "breathtaking."  Join Dr. Neil F Comins as he takes us on a virtual trip to the Moon to explore it and its importance to humanity.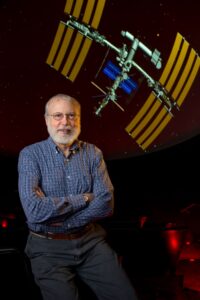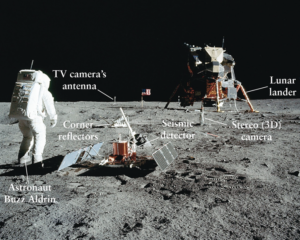 Dr. Neil F Comins is professor of physics and astronomy at the University of Maine, Orono.  He teaches classes ranging from introductory astronomy to general relativity.  He is the author of 21 astronomy trade and textbooks.  His book What if the Moon didn't exist? has been the basis of planetarium, radio, TV, and theater shows around the world. It was the theme of Mitsubishi's pavilion at the 2005 World Expo.  His research in general relativity was cited in Subrahmanyan Chandrasekhar's 1983 Nobel Prize lecture.  For the past 17 years he has been a cartoon character in Japan.
---
The Science Lecture Series at Versant Power Astronomy Center will take place on the second Thursday of each month and is a partnership project with the Maine Science Festival and will feature research from a variety of science disciplines from around our state and use the digital planetarium to visualize these discoveries in a new dramatic and immersive way.
Tickets for planetarium programs are $7 for Adults, $6 for UMaine Students/Veterans/Senior Citizens, and $5 for children under 12. Click here to view our calendar.
Tickets are available online at http://astro.umaine.edu, by calling 581-1341, or at the box office.

---
Previous Speaker
Dr. Paul A. Mayewski
Pushing Climate Change Research to the Roof of the World
Thursday, September 9 at 7:00 pm
In April/May 2019 the National Geographic and Rolex Perpetual Planet Everest Expedition undertook the most comprehensive scientific expedition conducted on Mt. Everest. The international team led by Dr. Mayewski set significant scientific records including the highest automatic weather stations and the highest ice core on Earth. The expedition resulted in many new findings that reveal key information about the highest reaches of our planet. He will discuss some of the findings, their significance on climate research, and what it is like to work on Mt. Everest.
| | |
| --- | --- |
| | |
| Photo credit Dirk Collins National Geographic | |
Dr. Paul Andrew Mayewski is an internationally acclaimed glaciologist, climate scientist, polar explorer and director of the Climate Change Institute and Distinguished at the University of Maine. He was born in Scotland where he was introduced to hiking very early in life. Paul has led more than 60 expeditions to the remotest reaches of the planet and has received numerous prestigious awards for his contributions to science including the discovery of abrupt climate change driven by atmospheric circulation, human impacts on climate change and ecosystems, and for exploration into uncharted regions of Antarctica, and numerous first ascents of mountains all to gain scientific knowledge. Paul is the first person to develop and lead prominent multi-disciplinary climate research programs at the three poles (Arctic, Antarctica, and the Himalayas/Tibetan Plateau). He has over 500 scientific publications, written two popular books "The Ice Chronicles" and "Journey Into Climate", and has appeared hundreds of times in media such as: the New York and LA Times, NOVA, NPR, BBC, CBS 60 Minutes and the Emmy Award Winning "Years of Living Dangerously".
---
Previous Speakers
September 2016
Dr. Elizabeth McGrath
A Walk Among Giants: Building the Largest Galaxies in the Universe

October 2016
Dr. Caitlin Howell
Unlocking the Secrets of Proteins: The Rise of Cryo Electron Microscopy

November 2016
Chuck Carter
Art and Science: Visualizing Complex Ideas for Everyone

December 2016
Dr. Paul Mayewski
Journey Into Climate

February 2017
Dr. Dean Astumian
How molecular motors work – insights from the machinist's toolbox

March 2017
Dr. Ali Abedi
Wireless Leak Detection for International Space Station

April 2017
Dr. Henning Haack
Meteorites and the Origin of the Solar System

May 2017
Dr. Karissa Tilbury
From Lightsabers to Tricorders:
Harnessing Light for Biomedical Applications

September 2017
Dr. Michaela Reagan
Potential Cancer Cures Leveraging 3D Tissue
Engineering and Bone Marrow Models

December 2017
Dr. Dale Kocevski
The Big Bang and the Origin of Our Universe

February  2018
Dr. Nicole Rausch
The Science of Wellness:  Why Your Doctor Continues to Insist You Sleep, Exercise, and Be Well

 View Event Flyer

View Lecture Slides

March 2018
Dr. Bill Davids
Hypersonic Inflatable Aerodynamic Decelerator and Rusty Old Bridges

View Event Flyer

View Lecture Slides

April 2018
Dr. Jennifer Page
Aquatic chemical signaling: How understanding signals in the sea helps us address interdisciplinary challenges

View Event Flyer

View Lecture Slides

October 2018
Dr. Justin Lap
A Bright Energy Future: Powering Industry with Solar Heat

 View Event Flyer
View Lecture Slides

November 2018
Dr. James W. Jarvis
Vaccines: Heroes or Villains (hint: it's the first one)

View Event Flyer
View Lecture Slides

December 2018
Dr. Kristy Townsend
Remodeling in Our Brain and Nervous System:
Connections to Obesity and Diabetes

View Event Flyer
 View Lecture Slides

January 2019
Danny Piper
Solar for ME!
The solar industry in Maine and beyond

View Event Flyer
View Lecture Slides

February 2019
Dr. Lauren Ross
Harnessing the power of the ocean currents

View Event Flyer
View Lecture Slides

March 2019
Dr. Alex Friess
Engineering in Sports

View Event Flyer
View Lecture Slides

April 2019
Dr. Grant Tremblay
Light from the Void: NASA's Once & Future Great Observatories

View Event Flyer

September 2019
Dr. Sam Hess
Super-Resolution Microscopy:
Illuminating Biological Functions to Cure Disease

View Event Flyer
View Lecture Slides

October 2019
Dr. Scott Randall
Black Holes, Exploding Stars, and Clusters of Galaxies:
20 Years of NASA's Chandra X-ray Observatory

View Event Flyer
View Lecture Slides

November 2019
Dr. Emanuele Berti
A New Dawn: Gravitational-wave Observations from Earth and in Space

View Event Flyer
View Lecture Slides

March 2020
Dr. Melissa Maginnis
Going Viral: Silent but deadly virus with a serious sweet tooth

View Event Flyer
View Lecture Slides

September 2021
Dr. Paul A. Mayewski
Pushing Climate Change Research to the Roof of the World
---