AST 110 Planisphere Purchase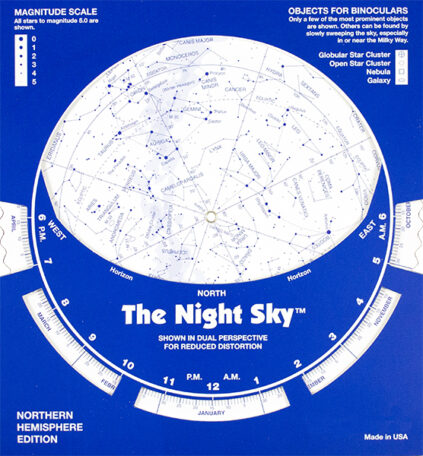 Welcome to AST 110!
You will need to purchase a planisphere (a two-sided rotating star map) called "The Night Sky" for this course.  The Versant Power Astronomy Center, here at the Orono campus, sells these planispheres.  This note is to give you all the details for purchasing a Night Sky for the course.
The planisphere is a star chart that can be used to identify stars and constellations and their location in the sky at any time of the year.  The planisphere is not included in your course fee, so the staff at the Versant Power Astronomy Center have been asked to sell them from their gift shop.
Each planisphere is $6, including tax.  For those at a distance, you can have it mailed to you for $4 extra for postage and handling (total of $10).  For those of you that live nearby, the Versant Power Astronomy Center gift shop is selling planispheres without mailing costs, if you like.  While the planetarium is closed to the public due to the pandemic, staff is typically available on-site between 10 AM and 3 PM.  Please call ahead at (207) 581-1341 to check if a staff member can unlock the doors before you arrive.  In either case, they will accept cash or check payment.  If mailing your order, send to:
Gift Shop – Planisphere order
5799 Versant Power Astronomy Center
167 Rangeley Rd.
Orono, Maine 04469-5799
Make sure you include your own address so they know where to send your planisphere!
If you wish to place your order online, please follow the link below:
For more information or questions on purchasing a planisphere, contact the Versant Power Astronomy Center at:
Phone: (207) 581-1341
Enjoy the stars!